Mannkind (Nasdaq:
MNKD
) continues to wait for FDA approval of its inhaled insulin drug candidate, Afrezza. This is not the first time an inhaled insulin formulation has come up for approval. Pfizer's (
PFE
) Exubera was less than exuberant. Although winning FDA approval, it was withdrawn from the US market in late 2007 after only being on the market for a year. This led to other companies to stop their development of inhaled insulin formulations. However, MNKD has persisted to develop its own version. There have been rumors that MNKD is seeking a partnership since 2009, but nothing has materialized. MNKD is probably waiting for approval before becoming serious in negotiations. But investors must wonder if MNKD will be left hanging to dry as many big pharma companies will be reluctant to market another inhaled insulin.
Diabetic patients are a huge market and treatment is typically life long. This means that pharma/biotech companies are interested to capitalize making drugs for diabetes treatment.
According to the
American Diabetes Association
:
"The national cost of diabetes in the U.S. in 2007 exceeds $174 billion. This estimate includes $116 billion in excess medical expenditures attributed to diabetes, as well as $58 billion in reduced national productivity. People with diagnosed diabetes, on average, have medical expenditures that are approximately 2.3 times higher than the expenditures would be in the absence of diabetes. Approximately $1 in $10 health care dollars is attributed to diabetes. Indirect costs include increased factors such as absenteeism, reduced productivity, and lost productive capacity due to early mortality."
Afrezza is an inhaled insulin therapy for meal time control of blood sugar in patients with diabetes based on a novel dry powder form, Technosphere Insulin. MNKD must prove to investors and potential partners that it can succeed where Pfizer failed with Exubera. MNKD must demonstrate that Afrezza:
Superior to injectable forms of meal time insulin
Patients are willing to use it. Patients find their information via the internet. They will surely come across Pfizer's letter to physician reporting possible lung cancer risk with Exubera although those patients who developed lung cancer were smokers and the results were not significant.
Ease of use. Although it may appear that an inhaler is easy to use. Insulin is given is specific doses in international units (IU). The dose for meal time insulin depends on what is being eaten. Afrezza must make it easy for patients to calculate and obtain the correct dose.
Reduced risk of low blood glucose after administration.
Cost similar to injectable insulin formulations or the premium worth the convenience.
There are many reported advantages of using the Technosphere technology over injectable insulin. Afrezza has been shown to be more rapid acting, short duration of action, and effective in controlling after meal blood sugar spikes. The figure below shows that Afrezza most closely mimics the natural insulin response. Exubera had a reported peak time of about 49 minutes. This rapid peak means that patients can take a dose when they are seated down to eat. The slow onset of conventional forms requires patients to inject before going to eat. There is a risk of hypoglycemia if the meal is delayed. The rapid action is due to the monomeric form in Afrezza compared to the hexameric form used in Exubera. The hexameric form is not active and cannot bind to insulin receptors. The hexameric form is good for slow release and is good for basal insulin. It makes sense to use the monomeric form when rapid action is needed after a meal.
The There is a decreased incidence of weight gain and hypoglycemia with Afrezza. The lower risk of hypoglycemia (low blood glucose) can be attributed to the rapid decline in insulin levels. Afrezza also has a better tolerability profile than available forms of insulin.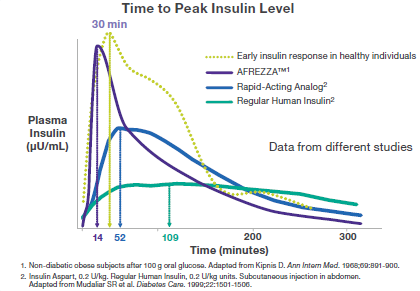 PFE's Exubera
Exubera's inhaler was big and clunky. Patients would look ridiculous and arouse suspicion when using it. The Exubera inhaler worked similarly to an asthma inhaler. The patient needed actuation-breath coordination when using it. This required a learning curve and pharmacists and doctors to take time to teach patients. You know the design was bad when patients rather inject themselves then simply inhale.
MNKD's Afrezza
Afrezza's inhaler is a big upgrade over Exubera's. The Afreeza inhaler is small and discreet. Patients can easily carry it in a pocket or purse. The inhaler is breath actuated thereby getting rid of a large chunk of the learning curve and improving the precision and accuracy of dose delivery.
Afrezza's blockbuster potential lies in its costs. A report by Black et al. stated that Exubera's efficacy did not justify the extra cost. To be competitive, Afrezza must be similarly priced to injected forms of insulin or a price that justifies the convenience. Up to a 20% premium seems to be the consensus and if MNKD decides a higher price, expect insurers to not cover Afrezza and MNKD not to find a marketing partner or someone to buy it outright.
There was recent pullback in the stock price. The stock was trading at $8.17 at the time of writing. A FDA approval would definitely help the price. I believe the increase would be slight as investors are likely to worry about a possible bust and how big a market share it can grab onto. The major increase will follow a partnership announcement with a big pharma to help market and distribute Afrezza. This would happen a couple of weeks after FDA approval. The market potential for an inhaled insulin is huge and MNKD's marketcap will go through the roof.
If MNKD fails to win approval or is issued a Complete Response Letter, the price will begin to tank. The bottom will depend on what the FDA wants from MNKD; additional studies on safety or efficacy. MNKD at this point has nothing to fall back on. It's other drug candidates are in earlier stages of clinical trials or in the pre-clinical setting.